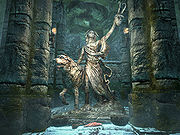 A rye IPA named for a dog in the game "Skyrim."
For fans of Elder Scrolls:
Barbas is a dog found along the road outside Falkreath. He is the only talking dog in the game. Barbas is Clavicus Vile's companion, a supernatural creature that usually takes the form of a dog.